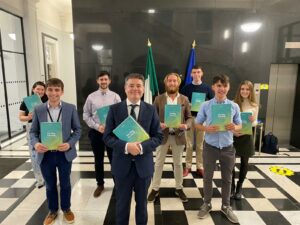 Members of the Young Fine Gael (YFG) National Executive met with Minister for Finance, Paschal Donohoe TD to present this year's Pre Budget Submission, aptly titled The Way Forward highlighting key areas where Budget 2022 could improve the lives of youth in Ireland.
YFG President Art O'Mahony commented, "This pandemic has been particularly challenging for young people who have sacrificed opportunities that we can never relive in the national interest."
"Over the past eighteen months, many of us have experienced college life through the confines of our bedrooms, lost deposits on rental accommodation, and went months without meeting our friends or family."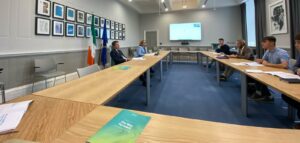 The Pre Budget Submission focuses on guaranteeing a sustainable and equitable recovery, centered around job creation and rewarding hard work. It includes a suit of proposals which includes increased funding of youth mental health services and supports, establishing a Student Accommodation Regulation Board (SARB), and widening accessibility to the SUSI grant.
"At its heart, The Way Forward is YFG's call for a renewal of the social contract with our youth and the development of a new deal for young people" O'Mahony concluded.
The Way Forward: Young Fine Gael's Pre Budget Submission 2021 is available here.